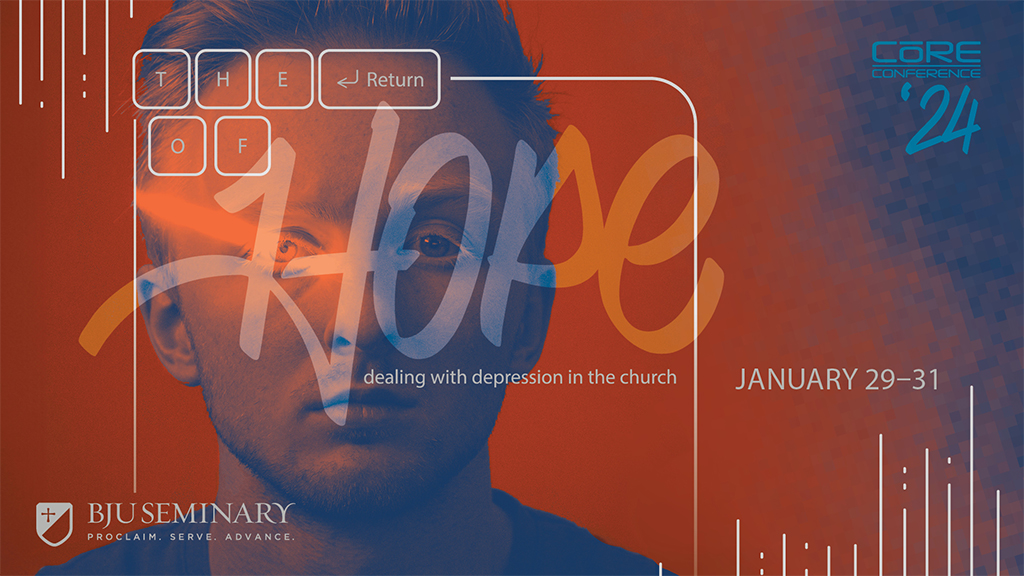 Connect • Renew • Equip
CoRE Conference 2024
Jan. 29 – 31
Schedule
Monday, Jan. 29
3–6:45 p.m.
Check-In
Welcome Center
7 p.m.
Session 1: Grace and Shame — Think About It
Tim Jordan — Stratton Hall
8:45 p.m.
Reception
Welcome Center Second Floor
Tuesday, Jan. 30
8:30 a.m.
Check-In
Welcome Center
9 a.m.
Session 2: Depression
Brian Hand — Stratton Hall
10:30 a.m.
Fellowship Break with Coffee and Snacks
Welcome Center Second Floor
11 a.m.
Session 3: How Does Depression Develop? Is There a Pill for That?
Dan Dionne — Stratton Hall
12:30 p.m.
Lunch


Tickets for purchase

at the dining common, or enjoy restaurants in the area or The Den
2 p.m.
Breakout Sessions 1

The Anatomy of Forgiveness
Tim Jordan

One on One Counseling of People with a Medical Illness
Dan Dionne

Helping Children of Divorce with Loss
Kelli Dionne

TBA
Greg Mazak
3:30 p.m.
Panel

5 p.m.
Dinner


Tickets for purchase

at the dining common, or enjoy restaurants in the area or The Den
7 p.m.
Session 4: Conversation About Suicide
Stuart Scott and Dan Dionne — Stratton Hall
Wednesday, Jan. 31
9 a.m.
Session 5: The Soul, Inner Man
Stuart Scott — Stratton Hall
10:30 a.m.
Fellowship Break with Coffee and Snacks
Welcome Center Second Floor
11 a.m.
Session 6: A Focused Look at a Familiar Song
Tim Jordan — Stratton Hall
12:30 p.m.
Lunch


Tickets for purchase

at the dining common, or enjoy restaurants in the area or The Den
2 p.m.
Breakout Sessions 2

Trusting Our Ever Present, Ever Faithful God in Our Time of Despair and Disappointment
Steve Cruice

Handling Losses Biblically
Jim Berg

Why Those in Ministry Are Especially Susceptible to Depression and How to Maintain Gospel Hope
Pearson Johnson

The Psalmist Speaks in Despair
Bruce Meyer

Counseling Kids with Anxiety
Kelli Dionne
5:30 p.m.
Banquet
Alan Benson — Davis Room (Dining Common)
Speakers
Tim Jordan, retired pastor of 44 years of Calvary Baptist Church, Lansdale, Pennsylvania
Brian Hand, BJU Seminary professor of New Testament
Dan Dionne, internal medicine specialist and ACBC certified counselor
Stuart Scott, BJU Seminary professor of biblical counseling and ACBC Fellow
Registration and Pricing
Early Bird Discount
$100
$25 for spouses
General Admission
$125
$25 for spouses
BJU Community*
FREE
*faculty, staff and students (books not included)
Early bird discount ends Dec. 15
Registration closes Jan. 24
FAQs
Will the conference be livestreamed?
There will be no livestream, but we plan to make session recordings available on our CoRE archives page.
Can I attend just part of the conference?
Attend as much of the conference as you can! However, we do not offer partial refunds for registered guests if you do not attend every session.
Is food included in the conference cost?
We offer refreshments in the mornings, but you can choose from a variety of options to purchase lunch and dinner. See the schedule or accommodations for details.
Location and Directions
The conference is hosted by BJU Seminary on the campus of Bob Jones University in Greenville, South Carolina.
1700 Wade Hampton Blvd.
Greenville, SC 29614
Accommodations
Food
There are several options for purchasing meals on campus at The Den as well as the University dining common. Or you'll find many restaurants close by.
Hotels
Coming from out of town? You'll find a variety of local hotels that offer a special BJU rate. Check out these hotels.
Questions?
Email or call (864) 242–5100 ext. 4210